<![if !vml]>
<![endif]>
MINERATH
Genealogy WebPages
<![if !vml]>
<![endif]>
Jean-Jacques MINERATH
(1827-1908)
You have questions?
Send me an email: lperrin@free.fr
The origins of MINERATH (the name was sometimes written MINERADT, MINORADT or MINERODT) are close to Freudenburg (Germany).
The oldest known ancestor is Huberti MINERATH (born before 1658), married to Anna N., they had 9 children (7 sons and 2 daughters).
We distinguish two branches:
Branch #1: MINERATH Mickael's (born 1681) branch, around 1737, he moved from Freudenburg to Hillesheim (60 miles North from Freudenburg),
its descendants were the first MINERATH to arrive in the USA (Calumet, Wisconsin) between 1848 and 1850.
This branch is named MINNERATH (with 2 N). I found more then 2000 persons of this line of descent (the majority are living in Minnesota).
Branch #2: MINERATH Godard's (born 1683) branch (my branch), like his brother, in 1737, he moved Freudenburg to a closer city.
He arrived in Palzem (9 miles West from Freudenburg). His grandson Johannes MINERATH moved from Palzem to the French village of Kontz-Basse (12 miles South from Palzem) in 1800.
His grandson Jean Jacques MINERATH was married to Barbe SCHOLTES (born in Elvange, Luxembourg), they moved from Kontz-Basse to Paris in 1864 or 1865.
<![if !vml]>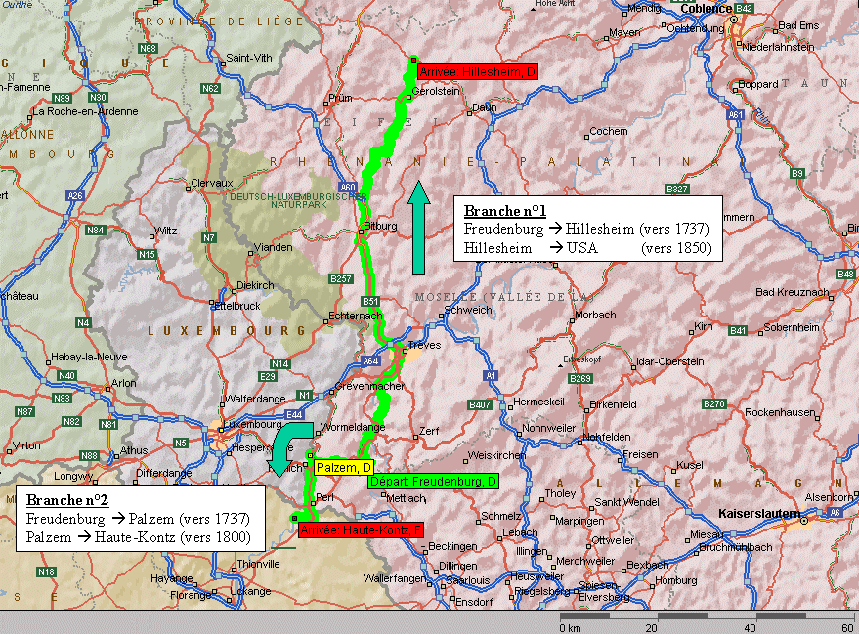 <![endif]>
Geography & History
GERMANY: SAARLAND & RHEINLAND PFALZ
The Habsburgs muddled on until the devastating Thirty Years War (1618-1648), sparked by ongoing religious and nationalist conflicts. Europe had been simmering ever since 1517 when Martin Luther tacked 95 suggestions for improved service to his local church door in Wittenburg. It took a bloody good stoush to settle everyone down and secure the rights of both Protestants and Catholics. Germany lost a third of its population in the process. Local princes assumed complete sovereignty over a patchwork of some 300 states, which made it all too easy for Napoleon to come along in the early 19th century and start adding them to his scrapbook. The French never quite managed to subdue Prussia, which became the centre of German resistance. It was Prussia that led the 1813 war that put an end to Napoleon's German aspirations in a decisive battle at Leipzig. In 1866 Otto von Bismarck, chancellor of Prussia, annexed most of Germany, consolidating his position as biggest wig in Europe with a resounding victory over France in 1871. The Prussian king, Wilhelm I, was instated as Kaiser and a united Germany hit the world stage for the first time.
Germany is divided into 16 federal states (Länder), each responsible for the government of its own state, some of which look back over a long tradition. Germany has always been divided into states but over the course of the centuries the map has often changed its appearance. The states that exist today were established after 1945 but have in part retained their old ethnic traditions and characteristics as well as their historical boundaries.
Taben-Rodt, Freudenburg, and Palzem are actually located in Rheinland-Pfalz (Rhineland-Palatinate). Palzem is on the Luxemburger border, Freudenburg and Taben-Rodt are close to another state: The Saarland. Weiten is actually located in Saarland (0.5 mile from Rhineland-Palatinate…).
All those villages were in Saarland before 1801
They were French between 1801 and 1815
They were in Saarland between 1815 and 1945
Kontz is actually located in France (1 mile from the Luxemburger border, and 2 miles from the German border)
This village was German between 1870 and 1918
The village is French again since 1918
Jean Jacques MINERATH is born in France (in Kontz) in 1827 and he died in 1908 in Germany in the same village…
<![if !vml]>
<![endif]>
<![if !vml]>
<![endif]>
Pictures (Freudenburg, Palzem, Kontz)
Freudenburg (Germany)
<![if !vml]>
<![endif]>
Freudenburg, general sight (1998)
<![if !vml]>
<![endif]>
Freudenburg, the church and the cemetery (1998)
| | |
| --- | --- |
| <![if !vml]><![endif]> | <![if !vml]><![endif]> |
| Freudenburg, the castle (XIVth century) | Freudenburg, the castle (1998) |
Taben-Rodt (Germany)
<![if !vml]>
<![endif]>
Taben-Rodt (1999)
<![if !vml]>
<![endif]>
Hamm - Taben-Rodt (1999)
Palzem (Germany)
<![if !vml]>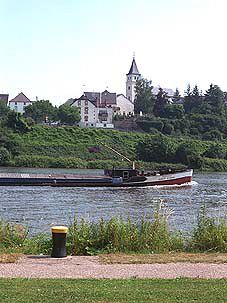 <![endif]>
Palzem (2003)
Contz-les-Bains / Kontz-Basse / Nieder-Kontz (France)
<![if !vml]>

<![endif]>
<![if !vml]>
<![endif]>
<![if !vml]>
<![endif]>
To protect the privacy of people, some parts of this website are password protected
If you think we have a connection, send me an email (lperrin@free.fr) to obtain a complete access
Laurent PERRIN - 2005/2019
<![if !supportLineBreakNewLine]>
<![endif]>